St Mary's Church Slough
Your local Church - Services Below
Parish of Upton cum Chalvey
Update 5 May
2022
2 – 14 May 2022    Herschel 200   Exhibition at St Laurence's   Offers of church sitting are very welcome!
9 May 2022   Bunting workshop  2-4pm Led by Linda
Big Picnic
Our plans to host the Big Picnic continue to move forward but we are now at the stage where we need to pull together to make it happen. This is an opportunity to place our churches at the heart of Slough's life and to open our doors ro our neighbours.
Please sign up on the rota at the back of church to help on the day and take some posters or leaflets to share.    Leaflet
Churchyard
You will notice a lot of work going on in the churchyard over the next few weeks. There is more information from the Slough Council or Thames Valley Police.
Like and share our new Facebook page
Diocese in Europe

Prayers across Europe for Peace in Ukraine
Lent and Easter Appeal 2022- Aid to Ukraine
The Church of England has published a 'toolkit' of resources for parishes seeking to help refugees and evacuees from Ukraine in the wake of the Russian invasion of the country.  The material is here.
Please click for the latest covid update.
      Services
 Sundays:         9.30am          Family Eucharist with children's group
 Sundays:         6.30pm          Evensong/Evening Prayer (BCP)
 Tuesdays:       10.00am        Eucharist
 Wednesdays: 12.30pm        Eucharist
Volunteers please
We hope to restart our Readers Rota soon.  This will let us plan ahead and readers will be able to have the passage in advance.  If you would be willing to read in church please let Fr Scott know.
Rotas for sidespeople will be produced: if you are a sidesperson at any church, please volunteer to Derek White-Taylor at St Mary's.
We are also re-introducing some altar serving with a selected and specially trained cadre of servers.
Please do not wait to be asked.
Finance
Giving envelopes are now available and if anyone wishes to support the church on a regular basis please speak to Jean Smith. 
Your responsibility
Although we take every precaution in our worship to prevent the spread of covid-19 the fundamental responsibility is that of everybody present.  Do not attend if you have any symptoms which may be covid, or if you have been in contact with any person so diagnosed. 
History of St Mary's Church
The building stating today was designed by John Oldrid Scott; building started in 1874, and was completed in 1913 with the addition of the tower and spire.
The church houses some unique stained glass. The completely abstract west window – one of the first of its kind – was created by Alfred Wolmark in 1915.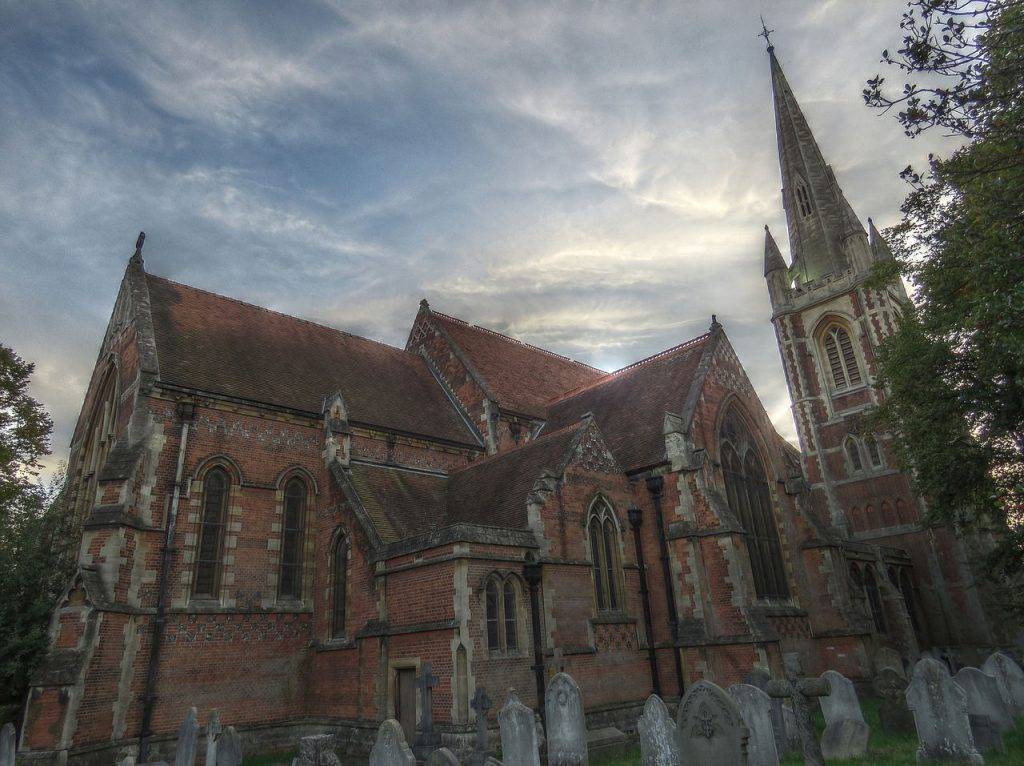 HIRE the Church
This is the largest concert venue in Slough, one of the most flexible and is reasonably priced by the hour or day.
Suitable for concerts, conferences, meetings, presentations, social events.
seats 450
flexible seating/display area
meeting room/green room
snack and tea/coffee
fully accessible
toilets with disabled access
baby changing facilities
hearing loop
flexible stage arrangement
grand piano
stage lighting
amplification
disabled parking
ample nearby parking
good public transport links
For a quote or for more information, call Jean Smith on 0771 752 3744 or email: [email protected]
Our Schools
Saint Mary's Church of England Primary School
Slough and Eton Church of England Business and Enterprise College
Get Involved
Bell Ringing
Choir & Organ
Mothers Union
Servers
Other Services
Baptisms
Confirmations
Weddings
Funerals
Get Involved
Join Us At Any Event!